Names:
given: Jacob
aka:
surname: GONDER

Birth
date: July 1858
place: Ohio

Christening
date:
age:
place:

Marriage 2
date: about 1880
age:
place:

Death
date: 2 January 1903
age: 44 years old
cause: Valvular heart disease
place: Bayonne, New Jersey

Burial
date:
place: H.C.C. Cemetery
---
Church Affliation:
---
Education:
---
Occupation: Day Laborer
---
Sources/Documents:
1. Jacob Gonder household, 1900 U.S. census, Hudson County, New Jersey, population schedule, town of Bayonne, enumeration district [ED] 13, supervisor's district [SD] 164, sheet 34, dwelling 336, family ---.
In 1900, the Gonder family was living at 50 Railroad Avenue in Bayonne, New Jersey. Jacob, at 42 years old, was working as a day laborer supporting a very large family. Jacob's wife, Anna was at home with the 7 surviving children of her 8 births.
2. Jacob Gonder death certificate, no. 2648, (1903), State of New Jersey.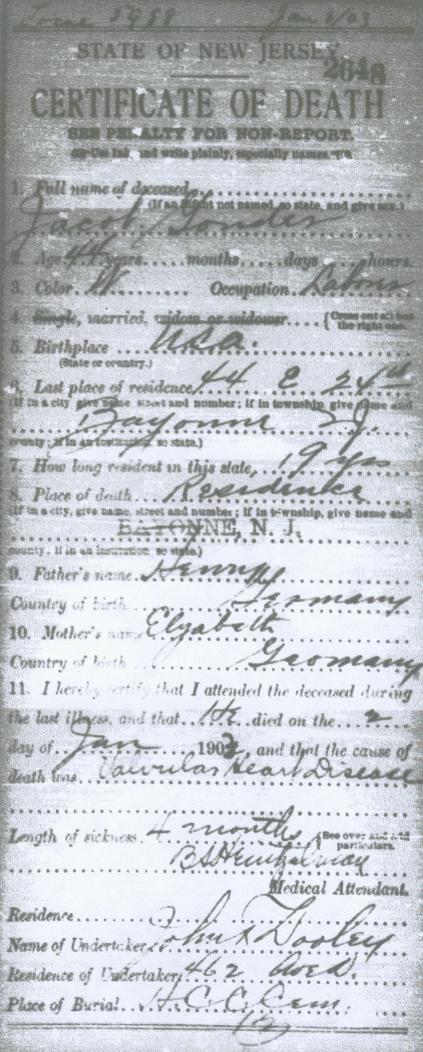 ---
Notes:
Lulu's father was born in Ohio. Her mother was born in Germany and immigrated to the United States in 1871.
---
Jacob Gonder
copyright 2003-2011 All Rights Reserved
Site developed by Ashley Rechten & Lorraine Arnold

Last updated: 17 November 2011